Needle/Syringe Exchange
Design Team:
Designed by Jake Headid (videos & animations), Ali Sayfie (posters), Megan Rook (posters, petition), Elaina Dye (posters), Emily Gauger (brochure), and Jinell Carslin.
Creative Statement:
Indiana, Nevada, Ohio, Cincinnati, Portsmouth, and Florida are some of the states considering needle exchange. There are about 200 needle-exchange programs in 33 states and the District of Columbia. In Indiana, Governor Mike Pence authorized a short-term program in one county to allow people to exchange used needles for sterile ones, to reduce the risk of contaminated needles being shared.
There is no needle exchange in Nebraska. It is illegal.
Use "betterment" stance, sometimes using a voice of fear or a voice of compassion.
Our goal is to show that this will not just help those addicted, it will help society as a whole reduce drug addiction and the spread of disease through improper needle use/disposal.
The end goal is to have enough signatures on a petition (located on our Facebook page) to enter the White House.
Every message is to persuade that needle exchange helps us ALL and does not contribute to drug addiction.
Appeal to individuals who are less familiar with needle exchange.
Make it seem like the best way to benefit the community as a whole by preventing collateral damage.
Voting parents of children and teens (Improperly disposed of needles could cause hazards to children/ drug experimentation in high school).
18 to 24-year-olds (At risk because of increased sexual activity with less familiar partners, and drug experimentation).
Women (At higher risk of contracting HIV from a partner due to drug use).
Strategy Brief:
WHAT IS THE PRODUCT OR SERVICE?
Syringe exchange programs and the related services that they provide, such as drug counseling and treatment as well as necessary medical services.
WHO DISAGREES WITH US?
The people who are against syringe exchange programs and those who are simply uninformed on the topic of syringe exchange programs and its benefits. Included are those who don't believe that there is actually a drug addiction/drug-related disease issue in Nebraska/rural areas.
WHO ARE WE TALKING TO?
Overall, the general public. We want to focus on voting parents of children and teens, 18-24-year-olds, and females (high risk for HIV contraction due to drug use). We also want to include law enforcement, government officials, medical professionals, and local organizations who would have an impact and who would be willing to partner with our organization. Because part of our campaign is to also raise awareness for the program itself, we are including addicts and the friends and family of users/addicts.
WHAT PROBLEM DO WE ADDRESS?
The problem is that syringe exchange programs are currently illegal in Nebraska. There is a lack of awareness regarding not only that there is even such a thing as syringe exchange programs, but also about the benefits of syringe exchanges that include stopping the spread of diseases due to sharing of used needles, helping addicts start their road to recovery, and how it can help lower costs for taxpayers to provide medical treatment for addicts who are uninsured for diseases like HIV, etc.
WHAT DOES THE TARGET AUDIENCE CURRENTLY THINK OF SYRINGE EXCHANGE?
While some genuinely believe that it just enables drug users and promotes drug use, the vast majority do not know programs like syringe exchange exist at all. Others who have a basic awareness of the subject tend to have a knee-jerk reaction to believe that the programs are enabling addicts.
WHAT IS ONE THING WE WANT THEM TO BELIEVE?
Nebraska needs syringe exchange programs because needle exchange promotes public safety, reduces costs to taxpayers, and helps addicts find the help they need.
WHAT CAN WE TELL THEM THAT WILL MAKE THEM BELIEVE US?
Studies show that needle exchange programs actually REDUCE drug use
Research shows that needle exchange programs reduce HIV and HEP C infections without increasing drug use
Programs also refer participants to drug counseling and treatment, and necessary medical services
Users will most likely take their used needles to the exchange programs instead of dumping them where it endangers the public
Keeping addicts disease free will help reduce the cost to the public to pay for uninsured addicts who contract diseases such as HIV, HEP C, etc.
WHAT IS THE TONALITY OF OUR CAMPAIGN?
Educational, honest, compassionate, and inviting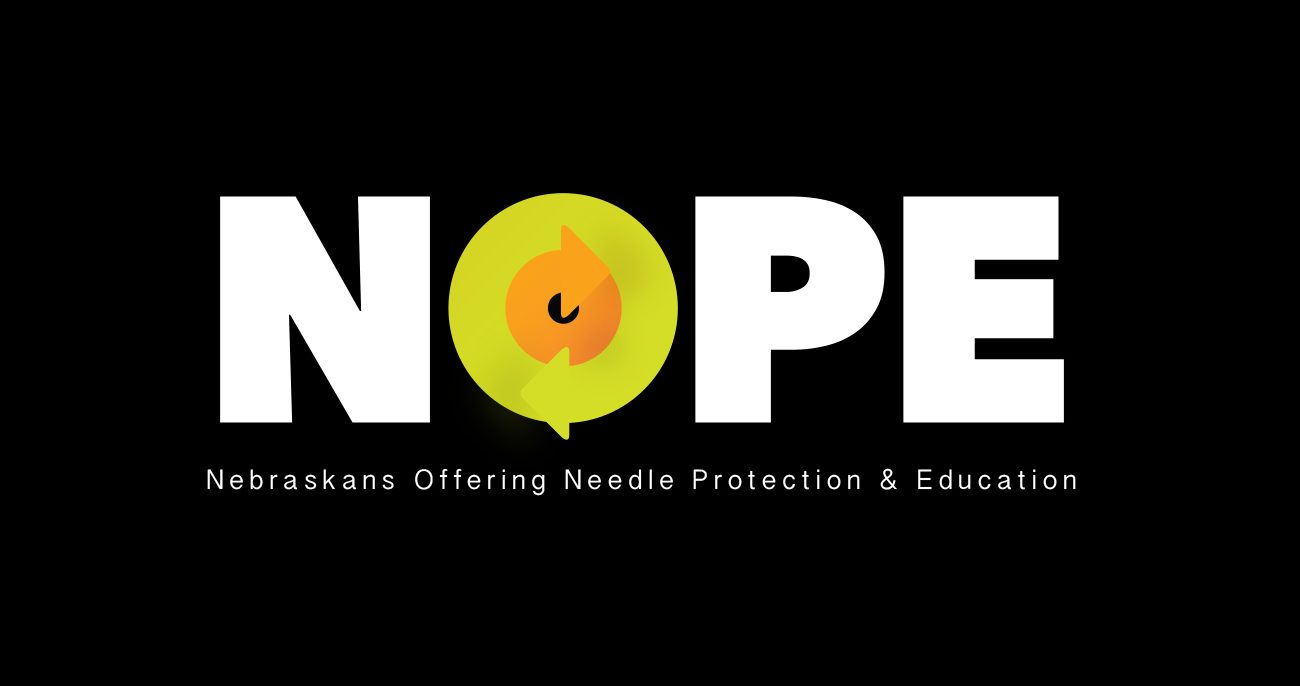 NOPE: Congressional Petition to Legalize Needle Exchange in Nebraska
NOPE: Social Media Outreach
NOPE: Social media video 2